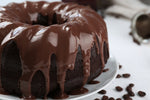 Peppermint Chocolate Ring Recipe
Peppermint chocolate ring cake made with Belgian chocolate.
Ingredients
225g self-raising flour
170g butter
170g castor sugar
3 eggs beaten
2 tsp cocoa powder
3 tablespoons milk
110g dark Callebaut chocolate
Peppermint Cream Ingredients
115g icing sugar
115g butter
Peppermint essence
Green colouring
Creme de menthe (mint-flavoured liqueur)
Method 
Well grease and line a savarin mould.
Sieve flour into a bowl to remove any lumps.
In another bowl cream together butter and sugar until pale and creamy.
Beat in egg a little at a time, beating well after each addition.
Add a tablespoon of flour with last amount of egg. Fold rest of flour into mixture and add 2 teaspoons of cocoa powder or dark melted chocolate.
Turn mixture into prepared tin and bake in a moderate oven (350 F; Gas Mark 4) for 55 to 60 minutes.
When fully cooked, turn ring out on a wire tray and let it cool.
Peppermint Cream: Beat butter in small bowl with electric mixer until as white as possible, gradually beat in sifted icing sugar, then milk. Flavour icing with essence and colour green to desired strength.
Brush cold cake with combined liqueur and water.
Fit a piping bag with fluted tube, and fill bag the bag with peppermint cream.
Pipe cream over top of cake and keep in a cool place till firm.
Place cake onto wire rack with tray underneath.
For chocolate topping, melt chocolate in bowl over water and when cool, pour over peppermint cream.
Un-sliced cake can be frozen for up to 2 months. This recipe is unsuitable to microwave.
Recipe created by John Desmond - Former Professeur de Cuisine Paris, France.