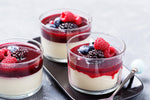 White Chocolate Mousse with Blackberry or Raspberry Coulis Recipe
A white chocolate desert mousse that will tax the taste buds to define the flavour.
Ingredients for 8 people
300g white Callebaut chocolate
6 egg yolks
7g gelatine (1 packet or 3 leaves)
75ml cream
425ml cream
400g blackberries or raspberries
50g granulated sugar
Method
Melt 300g white Callebaut chocolate in an oven proof bowl at a very low temperature (oven 50 degrees centigrade), or half fill a medium size saucepan with water and bring to the boil and take off heat, place bowl with white chocolate into saucepan and allow chocolate to melt. Do not allow any water into the bowl. When chocolate has melted remove from heat source.
Whisk 6 egg yolks one by one into the melted chocolate.
Put 7g gelatine into small working bowl with 75ml cream and warm mixture. This will help to dissolve the gelatine completely. Strain into chocolate mixture.
Place large bowl and whisk in freezer to chill, when cold remove.
Add 425ml cream, whisk until it is possible to make a soft peak with whisk, fold into the above mixture.
Pour into a dish which is flat and not too deep, put into fridge for approximately 3 hours or more.
Coulis - A coulis is an uncooked fruit sauce. 
Put 400g blackberries or raspberries into blender, and add 50g sugar. Blend, strain, and taste.
Add more sugar if necessary, or lemon juice if too sweet.
When Ready To Serve
Lay out 8 large plates, and divide the coulis between them.
Take mousse out of fridge and with the aid of a desert spoon dipped in boiling water, put three spoons of mousse on each plate.
If you wish you could top with browned sliced almonds.
Recipe created by John Desmond - Former Professeur de Cuisine Paris, France.