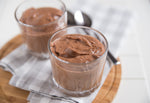 Classic Chocolate Mousse Recipe
Make a classic chocolate mousse with delicious Belgian chocolate.
Ingredients for 6-8 people
200g Callebaut chocolate
50g unsalted butter
5 egg yolks at room temperature
7 egg whites
50g sugar
Optional flavours: grated zest of orange, coffee, whiskey, cognac or any liqueur.
Method
Melt 200g Callebaut chocolate with 50g unsalted butter.
In large bowl beat 5 egg yolks at room temperature and add optional flavour.
In copper bowl or electric mixer, whisk 7 egg whites until stiff. If using a copper bowl add sugar at the end of the whisking procedure and if using an electric mixer add sugar as you whisk to stop graining.
To assemble the chocolate mousse: Add beaten egg yolks to chocolate and butter mixture and whisk, add 1/4 of beaten egg white to this and whisk, then fold in remaining egg white.
Put into flat bottomed dish or individual bowls.
It needs at least 3 hours to set and will keep for about 3 days in the fridge. Please note it does not freeze well.
Recipe created by John Desmond - Former Professeur de Cuisine Paris, France.