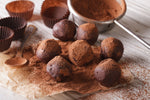 Chocolate Truffles Recipe
Make delicious Belgian chocolate truffles with this quick and easy recipe.
Ingredients for approx. 74 truffles
850g Callebaut callets
500ml cream
Powdered sugar
250g bitter cocoa powder
Optional flavour: Zest of orange/whiskey etc.
Method
Put 500ml cream into large saucepan, bring to boil, boil for 1 minute, and then take off heat.
Add 600g Callebaut callets to the cream, whisk until the chocolate has melted completely. Allow to cool.
Cover and put into fridge over night, approximately 12 hours.
To make the truffles, put the mixture over a bain-marie and heat just enough to be able to put it into a pastry bag and form little balls. Roll in powdered sugar.
Melt 250g Callebaut callets slowly in a bain-marie. The chocolate should be completely melted but without heat, to make sure that it is at the correct temperature put it to your lips, you should feel no heat.
Drop in the truffles, remove with a fork, and roll in cocoa powder.
They can be kept in a fridge for 10 days.
Recipe created by John Desmond - Former Professeur de Cuisine Paris, France.