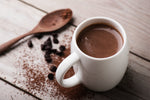 This hot chocolate recipe made with Belgian chocolate is the perfect treat for evenings in with family, or friends.
Ingredients
250ml cream
750ml milk
250g Callebaut chocolate
Method
In large saucepan bring 250ml cream and 750ml milk to boil. Boil for 2 minutes.
Remove from heat and add 250g Callebaut chocolate, and whisk until the chocolate is completely dissolved.
Serve immediately and enjoy.
Recipe created by John Desmond - Former Professeur de Cuisine Paris, France.